Subscriber benefits
---
As a print subscriber to The Japan Times / The New York Times, you are eligible to receive free digital access to The Japan Times website and NYTimes.com. Registration required.
1. The Japan Times website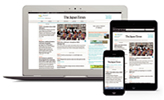 UNLIMITED access to all content on The Japan Times website
2. NYTimes.com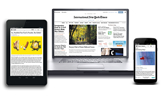 Unlimited access to NYTimes.com any the NYTimes tablet and smartphone apps, as well as their intermational editions,plus the new NYT Now and NYT Opinion apps for iPhone.
3. Download PDF of daily TV listings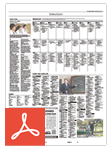 DOWNLOAD from "MY ACCOUNT"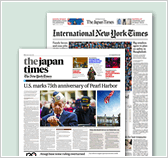 English daily
-------------------------------
210yen per issue
Monday to Saturday


260yen per issue
Sunday


Subscription fee:
Monthly : 5,143yen
6-month : 29,314yen
12-month : 55,296yen





1)

Registration

Create an account.
If you already have an account, you can skip this process.


1)

Log into Å®Y ACCOUNT¡¦with your password.

2)

Apply for subscriber benefits.

3)

After applying, you will receive an email with log in information.